Welcome to the Kona Cooker website featuring affordable, easy to build solar cookers for everybody.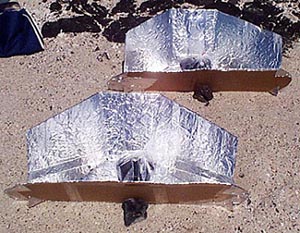 A pair of Kona Cookers at the beach cooking up a tasty lunch.
---
Why buy an expensive solar cooker when you can buy our plans and build your own? This is a full-sized pattern, not some little diagram in a book. These cookers are easy to build and you can make enough cookers to make a real meal for your family instead of only cooking a one pot meal. The Kona Cooker will also pasteurize water.
Kona Cookers are great because:
No fuel is involved (it's powered by the sun)
Safe to use in dry, fire hazard areas where open fires are not allowed
Folds flat for easy transport and storage
Lightweight and sturdy
Educational
Fun to make and use
Makes a great gift
Check out our website via the links on the left for photos and information on the Kona Cooker. Aloha!
---